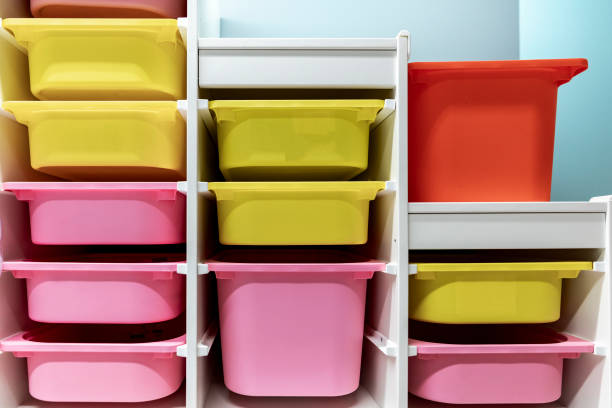 Plastic storage tubs are useful for more than just stashing away out-of-season clothes and holiday decorations. With their durable yet lightweight design and water-tight lids, plastic tubs can be repurposed in many clever ways around your home. Here are some creative uses for plastic storage tubs beyond basic storage needs.
Outdoor Side Table
Plastic tubs make great outdoor side tables for patios, decks, and porches. Choose several in coordinating colours and stack them to create different levels. Place a wood panel atop them and decorate with outdoor cushions and potted plants to make a charming, budget-friendly side table. The plastic withstands weather and won't warp.
DIY Pet Bathing Station
Give your dog or cat an elevated bathing experience by using a large plastic tub as a pet bathing station. Place it on a non-slip mat, fill it with a shallow layer of water, and lift your pet inside to keep the mess contained as you shampoo. The lid can store pet shampoo and towels—no more back strain from ground-level bathing.
Laundry Hamper
Plastic tubs make convenient laundry hampers for any room. They're sleeker looking than fabric hampers and easier to clean if clothes are dirty or damp. Place one in bedrooms, bathrooms, and laundry rooms to corral dirty clothes until wash day. The lid contains odours and keeps laundry out of sight.
Craft Supply Storage
Plastic tubs are ideal for neatly organizing messy craft supplies. Use stackable tubs to sort paints, glitter, beads, fabric scraps, feathers, and other fun materials. Having supplies easily visible makes projects go smoother. The seal keeps everything fresh between craft sessions. No more hunting for that missing pom pom!
Kid's Ball Pit
Using a plastic tub, transform your child's room with a DIY ball pit. Fill it one-third full with colourful plastic balls from a dollar store. Put the tub on the floor or inverted box, and let your kids enjoy jumping in for hours of fun. It folds up neatly when not in use. It's much cheaper than buying an official ball pit.
DIY Ice Bucket
Use a plastic storage tub instead of a bowl for a cooler ice bucket on hot summer days. Fill it with ice and bottled beverages for parties and BBQs. The deep tub keeps drinks fully submerged for maximum cooling, and the lid helps ice last longer. No more watery drinks or ice rapidly melting in a shallow container.
Camping Wash Basin
Plastic tubs are perfect for washing up at a campsite. Fill one tub with wash water, one with rinse water, and use a third to hold camping soap and towels. The lids keep bugs and debris out of the water. They're easy to transport and hold more than a basic camping wash basin. No plumbing is required!
Conclusion
Their versatile design allows plastic tubs to go beyond closet storage to become DIY home projects or camping gear. They're lightweight enough to transport yet durable enough for outdoor use. Whether you need a pet bathing station or campsite wash basin, think outside the box with plastic tubs!
For more visit: https://www.theplasticman.com.au